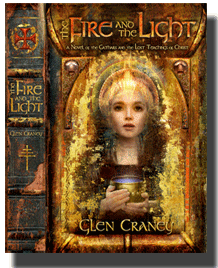 "I loved this book! Mr. Craney has woven a wonderful story around the little known facts and the many myths that surround St. Esclarmonde de Foix and the Cathars at Montsegur. The book is historical fiction. He makes no claims to have learned secrets of her life that haven't been revealed prior to this telling, however I believe that he has done justice to the spirit of the Cathar legacy and to the Gnosis . . . Get thee to a bookseller!" (Read
review
)
Rev. Mother Anastasia+
Co-founder and Abbess of the Order of St. Esclarmonde
Seattle, Washington
"Spanning roughly sixty years in the late 12
th
and early 13
th
centuries, this story portrays the spread and persecution of the Cathar faith in France. Considered heretics, the Cathars preached pacifism, ordained women, and were accused of practicing black magic because of their skill with healing. Esclarmonde de Foix starts out as a headstrong girl in the Toulousian Courts of Love, but after an encounter with a Cathar elder, finds herself increasingly drawn to the faith, and after undergoing certain spiritual trials, she eventually finds herself acting as the leader of the Cathars, dedicated to God and her people. Throughout, she struggles with her love for a Templar knight who often rescues her in times of need, but neither can choose their love over their faith without breaking sacred vows.
This book is clearly well-researched, but more importantly for a novel, it tells a thoroughly engrossing story. As Esclarmonde struggles with her faith and the war sweeping her country, Craney explores issues of theology, a variety of historical events and characters, forbidden love, and the strength and strain of family ties through war. Some of the battle and persecution scenes are quite gruesome as the depictions are quite true to life, and at times the language is a little overblown, making some scenes difficult to follow. Overall, though, this is a well-written and compellingly told story of a little-known figure from medieval France.
This book would appeal to those interested in medieval French history and readers who were intrigued by some of the historical underpinnings of Dan Brown's The Da Vinci Code, and it is a well-told epic story of faith and love."

Ann K. D. Myers
The Historical Novel Society Review
"What is a masterfully orchestrated novel? One like this one that tells a spellbinding tale but also has rich illustrations and provocative quotations at the start of each section and chapter. These images and thoughts do not simply illustrate the story, they tell a parallel story in Tarot-card faces and in citations from some of the most thoughtful sources we are blessed with: Rumi and the Gospel of Thomas most prominent among them. These pre-figures and pre-thoughts set the mood for what follows. Not unlike how mood-altering music is used in the background in a dramatic movie . . . The Fire and the Light is a marvel of a tale, tied quite firmly into what facts there are, and woven deftly into a tapestry touching those facts and connecting them into a tale at once enjoyable and alarming."
-- Abe Van Luik, ThoughtsandPlaces.org Book Reviews
(Read more of Mr. Van Luik's review)
" . . . Glen Craney's goal may have been to tell the story of the Cathars, but in the process he has painted a portrait of the whole of medieval culture. It is also difficult to classify the book to a single genre. There is action. Mysteries abound, including the role of the Cathars in the protection / hiding of the Holy Grail and the Mandylion / Sudarium. There's romance. Tenets of the Cathar faith are explained and many of Esclarmonde's mystical experiences beautifully rendered. The Fire and the Light will be a beautiful adventure for all with the patience to read it. . . "