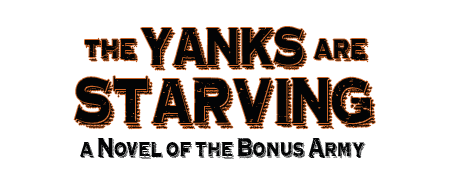 As the summer of 1932 approaches, the nation stands on the brink of a second revolution.
In Washington, D.C., two American armies will clash under same the Stars and Stripes.

A day destined to become
the most shameful in American history.
Mired in the Great Depression, the United States teeters on the brink of revolution. And as the summer of 1932 approaches, a charismatic, rail-riding hobo leads twenty thousand desperate World War I veterans across the country to demand payment of their service compensation on the steps of the U.S. Capitol.
The tragic events depicted in this sweeping historical novel are unfolded through the eyes of eight Americans, all from widely different backgrounds, who survive the fighting in France and come together again during a tense July month to determine the nation's fate:
Herbert Hoover, the beleaguered president who fed millions of starving Europeans, only to be unfairly castigated at home for his indifference to hungry Americans;
Douglas MacArthur, the ambitious West Point general who is convinced that the protesting veterans are the vanguard of a vast communist conspiracy to take over the nation;
Pelham Glassford, the creatively gifted and compassionate police chief who champions the cause of the homeless veterans, only to be sabotaged by Administration officials;
Walter Waters, the troubled former medic who convinces his fellow Portland veterans to ride the rails across the country to confront Hoover and Congress;
Floyd Gibbons, the celebrated war correspondent who becomes the Headline Hunter, the nation's most famous radio broadcaster;
Joe Angelo, the diminutive Italian American veteran who saves George Patton's life in France, only to be driven off in his greatest hour of need;
Ozzie Taylor, a private with the Harlem Hellfighters, the legendary African-American regiment that must fight with the French because of the Army's segregation;
Anna Raber, a Mennonite nurse who tends to American wounded in the trenches and joins the Bonus Marchers in Washington.
This timely epic leads the reader across three decades of American history, from the Boxer Rebellion in China to the Plain of West Point, from the persecution of conscientious objectors to the horrors of the Marne, and from the Hoovervilles of the heartland to the pitiful Anacostia encampment in the bowels of the nation's capital.
Here is the shocking but little-known story of the political intrigue and government betrayal that culminated in the only armed clash between two American armies under the same flag.
* * * FOREWORD REVIEWS MAGAZINE BOOK-OF-THE-YEAR FINALIST * * *
* * * indieBRAG MEDALLION WINNER * * *
* * * CHAUCER AWARDS FINALIST * * *
"[A] wonderful source of historical fact wrapped in a compelling novel.... Each of the characters is written in a depth that makes them come alive.... If you want to learn about one of America's darkest days, one that rarely gets any attention, this is a book that will both teach and entertain." — Historical Novel Society
"Craney has written an outstanding social and military historical novel of the United States covering the crossing over from the nineteenth century mentality into the twentieth century. Simply put, an outstanding novel." — Joseph Spuckler, Author Alliance reviewer and U.S. Marine veteran
"One of the best and most memorable books I have ever read." — U.S. Marine veteran Nathan Mercer, Movies and Manuscripts
"Glen Craney...has drawn a vivid picture of not only men being deprived of their veterans' rights, but of their human rights as well.... The Veterans Bonus March was a momentous event in American history and Craney performs a valuable service by chronicling it in this admirable book." — Military Writers Society of America
"[I] know of no other fiction writer who has made this brave, tragic protest movement the main theme of a novel, until now. Glen Craney deserves praise for recognizing the significance and dramatic potential of the Bonus Army story and developing it in The Yanks are Starving." — Ruth Latta, The Compulsive Reader Review