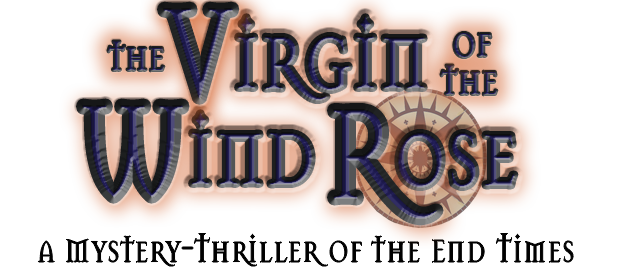 Two conspiracies to launch the End of Days.
Linked by a centuries-old cryptogram.
The world's most guarded secret is about to be revealed.

While investigating the murder of an American missionary in Ethiopia, rookie State Department lawyer
Jaqueline Quartermane
becomes obsessed with a magical word square found inside an underground church that guards the tomb of the biblical Adam.
Drawn into a web of esoteric intrigue, she and a roguish antiquities thief named
Elymas
must race an elusive and taunting mastermind to find the one relic needed to rebuild Solomon's Temple. A trail of cabalistic clues leads them to the
catacombs of Rome
, the crypt below
Chartres Cathedral
, a Masonic shaft in
Nova Scotia
, a Portuguese shipwreck off
Sumatra
, and the caverns under the
Temple Mount
in Jerusalem.
Intertwined with this modern
mystery-thriller
, a parallel duel is waged:
The year is
1452
. One of the most secretive societies in history,
Portugal's Order of Christ
, is led by a reclusive visionary,
Prince Henry the Navigator
. His medieval version of NASA combined with the CIA schemes to foil its archenemies, the
Inquisitor Torquemada
and
Queen Isabella of Castile
, who plan to bring back Christ for the Last Judgment by ridding the world of Jews, heretics, and unbelievers.
Separated by half a millennium,
two conspiracies
to usher in the
Tribulations
of the
Book of Revelation
dovetail in this fast-paced thriller to expose the world's most explosive secret: The true identity of
Christopher Columbus
and the explorer's connection to those now trying to launch the
End of Days
.
EDITORIAL PRAISE:
"An exciting journey across time, with more twists and turns than a strawberry Twizzler. Craney has produced a page-turning adventure, with crisp, clean and measured prose... The research behind the stories is massive, lending credence to the cast of characters and authenticity to the historic periods. This is a highly recommended historical thriller in the manner of Dan Brown."
-- Quarterdeck magazine
"[T]his book was compared favorably by other readers to the writings of Dan Brown... I jumped at the chance to see what the hype was about. I'm very glad I did... I stayed up all night to finish this great read and was left wanting more... Many times I will figure stories out early on, but this book keeps you guessing. Mr. Craney is a master of holding back and building the suspense. Though this is a fast-paced romp through history and time, you are still holding your breath... I'm hoping for a sequel."
-- One Book Shy of a Full Shelf Reviews
"If you liked Umberto Eco's The Name of the Rose, or Dan Brown's The DaVinci Code, you will find this story interesting, too...This book is wonderful in that when you are finished, you are still asking yourself all kinds of questions. It is a great story and one I enjoyed thoroughly."
-- Olivia Morris, Review This
"A page turner...and a very well written narrative which I thoroughly enjoyed. Highly recommended."
-- Historic Naval Fiction
"A fantastic and enthralling page-turner.... [W]ill keep you glued to your couch. It's the kind of book you can read without seeing the hours pass by, enveloping the reader in its complex and yet logical and well-developed mystery. It's most certainly a tour-de-force.
-- David Ben Efraim, QBR Reviews
"Grips you in its teeth and whirls you through history... Naturally this novel will be compared to the books of Dan Brown but the quality of writing in The Virgin of the Wind Rose has the edge for me."
-- Rosie Amber Reviews